As we recommend to read our Buying Guide & Reviews on best mixer grinders in India 2023
Everything nowadays is online in the era of the Internet. Mixie or Mixer Grinder is one of the essential appliances in the kitchen.
With the help of a mixer grinder we can make chutneys, pastes, powdered masalas, milk shake and lots more as per requirements of kitchen.
Mixer grinder is a very essential electric kitchen appliance for your everyday use. You can get an idea of some of the best mixer grinders in India from online.
Best Mixer Grinders in India 2023
1. Sujata Dynamix DX Mixer Grinder, 900W, 3 Jars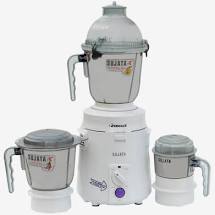 Being a local brand, Sujata Dynamic Mixer Grinder can be enlisted as the top 10 mixer grinders for the good quality and performance. It is used both as residential and commercial uses.
Running by 900-Watt motor, this appliance can run for 90 minutes at a stretch for a heavy grinding. It is enabled with double ball bearing to ensure the durability.
It comes with an air-tight lid to hold the flavour of the food within the container. This appliance comes with an extra wet grinding dome jar to prepare the dough of the idlis and dosas.
2. Bajaj Rex Mixer Grinder with 3 Jars, 500W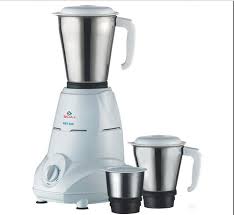 This electric appliance is made with durable stainless steel for the multi-functional purpose, like- liquidizing, wet and dry grinding or chutney making.
Bajaj Rex Mixer Grinder can be nominated as the best mixer grinder in India 2023.
This product is attached with a vacuum footto secure the position while the motor is working. This device is featured with LED indicator, overload protection and multi-functional blade to grind all types of vegetables, fruits and other ingredients.
3. Preethi Zodiac MG 218 Mixer Grinder, 750W, 5 Jars

Preethi Zodiac MG 218 Mixer Grinder is undoubtedly one of the best mixer grinders in India. This device is featured with fast cooling technology to make the device cool within a short period.
Preethi Zodiac multi-functional heavy-duty mixer grinder is capable of preparing the idli batter and the dough of the chapattis.
You can make fresh fruit juices from the centrifugal juicer attachment. It also helps to extract the essence from the tamarind and the milk from the coconut.
4. Philips Hl1645 750-watt 3 Jar Vertical Mixer Grinder withFruit Filter, Blender Jar
This multi-functional mixing jar from the international company, Philips, is the best mixer grinder in India 2023. This grinding machine is featured with an air-ventilation and faster cooling system to make the motor more durable.
This appliance is perfect to prepare the idli and dosa batter along with the other toughest ingredients, like-turmeric, pepper and the whole gram daal. With the sharpen blades, it can grind all the fruits and vegetables.
It is enabled with auto cut-off feature and a secure lid to lock it properly. This high-quality kitchen appliance is available in a compact triangular-shaped design.
5. Panasonic MX-AC400 550-Watt 4 JarsSuper Mixer Grinder
Panasonic is the best mixer grinder in India that comes with a sleek unique design. You can prepare milkshakes, ice-cream, fruit juice, spices and vegetables puree with this powerful multi-functional grinder.
This device is enabled with a double-lock mechanism and is attached with a suction pad. The circuit breaker safeguards the motor from burning. The jars have a handle to make them user-friendly. You can remove the blades from the jars for a complete cleaning.
6. Inalsa Jazz Mixer Grinder, 550W, 3 Jars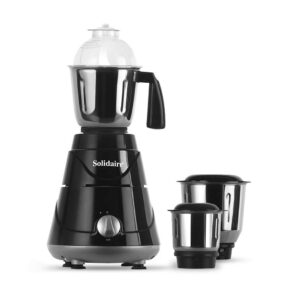 Inalsa Jazz is one of the best mixer grinders in India. It has three different jars, liquidizer, multi-purpose jar and a chutney jar. This grinding appliance is made with stainless steel to make it sturdy.
The blades are sharpening enough with a unique design for powerful grinding. A concealed bush is attached to prevent leakage at the bottom. This machine is specially featured with triple speed and overloaded safety protection. This motor can run for about continuous 30 minutes without heating the machine.

7. Butterfly Jet Elite Mixer Grinder, 4 Jarswith750W
Butterfly Jet Elite is the best mixer grinder in 2020 for its design, durability, safety and functionality. The blades are made with stainless steel and is capable to chop the vegetables and can also powdery dust the other ingredients, like- turmeric, pepper and cardamom.
These jars are fixed with vacuum rubber shoes to make it fix firmly. The mixing jars are made with poly-carbonate material and are covered with a lid on the top. Additionally, the mixer is attached with 3-speed knob to get the mouth-watering milkshakes and the various purities.
8. Bosch TrueMixx Pro Mixer Grinder 1000 Watt-MGM8842MIN
Though Bosch Mixer Grinder is a newbie, but it takes a good position in the top 11 mixer grinder in India 2023. The powerful mixer has 4 different jars. You can make smoothies, juice and coconut milk extraction in the largest mixing jar.
The wet grinding jar is used for making the idli and dosa batter. Blunt pounded stainless steel blades can dust all the spices, including pepper, turmeric and coriander. The mixing containers are locked with nylon lids to offer hands-free operation. With numerous positive feedback, this product is money-worthy.

9. Hamilton Beach Professional Juicer Mixer Grinder, 3 Leak-proof Stainless-Steel Jars, 1400-Watt Motor
With the three-leak proof stainless steel made Hamilton Beach Mixer Grinder is another best mixer grinder in India. This product can blend different consistency of ingredients, like- dry, wet hard, wet soft, and even the soup.
This appliance is specially featured with motor temperature indicator and triple overload protection that safeguard the motor to make it durable.
So, all along it can be said that this hands-free appliance is very necessary for the multi-tusker.
10. Lifelong Power Pro 500-watt Mixer and Grinder with 3 jars
Lifelong Power space-saving grinder is one of the best mixer grinders in India for its good performance.
This machine is made with rust-free stainless steel to provide a good durability. You can grind, blend or liquidize the ingredients with the help of three-speed operation. The anti-skid feet help the appliance to be in the surface while working the motor. It works great for idlis and lassis.
11. Maharaja Whiteline MG Livo MX-151 Mixer Grinder, 500W, 3 Jars (Red)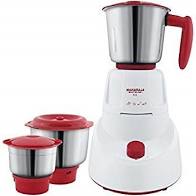 Maharaja mixer grinder ranks as the best mixer grinder in India 2020. It is connected with 500 W heavy motor.
With the sharpen blades it can blend, grind or liquidize all the toughest ingredients, like- pepper, turmeric, and all the other spices in a fine powder. This machine is available in a compact size and is made with high-grade plastic. It is also equipped with three different adjust mental knobs to make your job easier.
How to Choose the Best Kitchen Mixer cum Grinder & Juicer-Mixer-Grinder?
You should consider some of the basic factors before buying the best mixer grinders in India & the juicer mixer grinders. The mixer grinder you choose should have enough containers or chambers, powerful motor for heavy-duty grinding with some other functional properties.
Your kitchen appliance should be made with shockproof plastic material and featured with voltage fluctuations and overloading.

Conclusion:
This article is comprehended with the proper guidelines of the best mixer grinders in India 2023 with their additional features. Read the article carefully to make a perfect choice of this kitchen-friendly appliance to make your toughest grinding jobs at ease.